ALICJA WALCZAK
Born in Gdańsk, artist, painter, photographer, graduate of the Academy of Fine Arts in Gdańsk at the Faculty of Graphics. She obtained her diploma in 2010 with the defense of the thesis "Energy of Light". Journalist, a graduate of the University of Warsaw in Journalism, a graduate of the University of Social Communication in Gdynia, an Italian translator.
She graduated from Scuola Interpretti International School in Italy. A traveler, passionate about singing, dancing and sports.
She took part in collective plein-airs and exhibitions in Poland and abroad. Her works are in collections in Italy, Norway and the USA.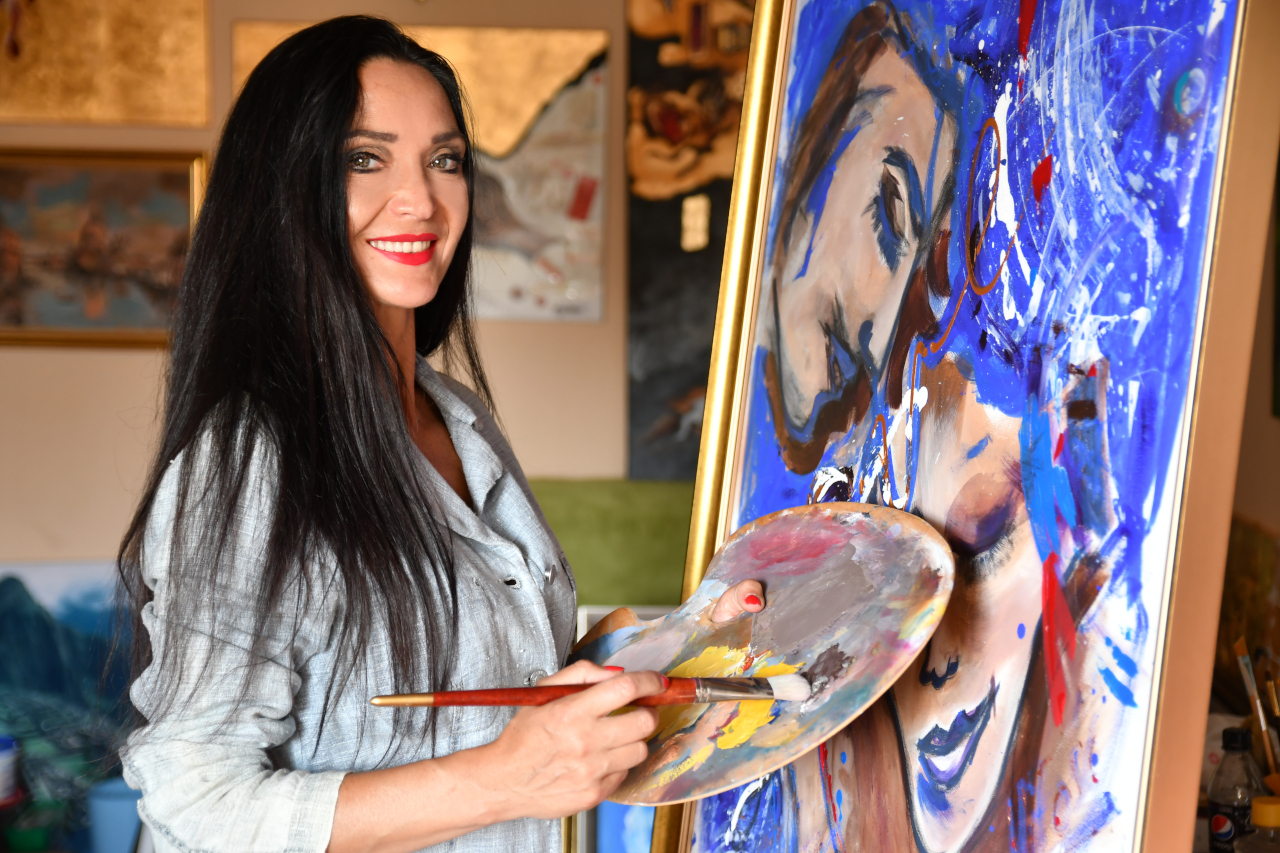 LIGHT AND TRANSFORMATION
In easel painting, Alicja Walczak conveys the depth of her experiences related to the beauty of the world around us, the journey she calls life, as well as the images of inner life related to spiritual development.
He shares his world with the observer through the symbolism of signs, words from the spiritual space. This world has many dimensions, ranging from a beautiful landscape, flowers to the eloquent symbolism of the images of the inner man and his condition, where spirituality has a huge impact on taking up artistic topics. In addition to intense, pure colors full of life, to muffled, nostalgic, hazy images. His achievements also include portraits of saints and writing icons. A characteristic feature is the weaving of gold flakes, metal, which are supposed to represent Light and transformation. The works are performed in a mixed technique, oil or acrylic. They radiate warmth, joy, reflection, and make you reflectively and optimistically.
The author invites you to her world full of mysticism, which is teeming with life, with color, where the image with the word becomes a step into the deeper layers of the message. The artist deals with the issues of the space of painting and its relations between the spiritual side of the surrounding world and the beauty and sensitivity necessary for the works performed. For seeing is more than just looking. The essence is reading it, experiencing the so-called compassion.
BIG BROTHER
Wchodząc do tego programu nie mieliśmy pojęcia jak ludzie nas odbiorą, jak mamy postępować, co jest miłe oku. Było to swoistym eksperymentem. Po prostu staraliśmy się być sobą. Było w nas dużo spontaniczności, mimo że czuliśmy się tam dość dziwnie, bo nigdy wcześniej nikt z nas nie znajdował się pod stałą obserwacją kamer. Zresztą nie wiedzieliśmy wtedy o obecności niektórych z nich, np. tej z noktowizorem, która obserwowała nas w nocy. [...]
Na początku wszyscy chronili przed nominacjami te osoby, z którymi zwyczajnie lepiej się czuły. Później niektórzy przyjęli taktykę eliminowania tych, którzy mogli zagrażać im na drodze do wygranej. Mnie w programie nazywano "gladiatorem".